Last Updated on April 16, 2022
Wasps are an incredibly diverse group of insects. At what temperature do wasps stop flying? This really depends on the type of wasp, but generally, people ask this question about the types of wasps that are numerous and found all over – yellow jackets being the main culprits here. There are a few factors that affect wasps, and we will go into those so we can answer the questions accurately.
A Quick Look At Wasp Metabolism
Insects that have very little ability to regulate their internal body temperature are termed ectotherms. For these insects, when it gets below the temperature at which they can generate enough energy to fly, they will become inactive. Some species of solitary wasps are mainly ectotherms.
Endotherms are animals able to use internal processes to regulate body temperature. In the case of mammals and birds, this results in a pretty stable body temperature and a high metabolic rate. Insects are capable of so-called "facultative endothermy" – they can use their body muscles to generate heat and warm themselves up.
Honeybees and certain wasps are examples of facultative endotherms. This method of metabolic heat generation allows a bee or yellow jacket wasp for example to be warmed up in the hive/nest and then the forager can leave the nest at air temperatures below which it would normally be able to fly. These foragers can then dart out, collect food and get back before they cool down too much. This is a nice overview of the science of this system.
In this regard honeybees and vespid wasps are classified as heterothermic organisms – this means they can sometimes be endothermic and sometimes ectothermic. The ability to heat their bodies comes at a great energy cost – sugars are metabolized in the bee or wasps body to generate heat.
At what temperature do wasps stop flying? From a practical perspective, this means that we reach a point where the amount of energy that needs to be created to keep the insect warm exceeds the ability of the insect to absorb oxygen to metabolize. Below this temperature, the insect becomes cold and loses the ability to fly – this metabolic cut-off is about 53°F plus or minus a few degrees.
What Is The Temperature At Which Wasps Cannot Fly?
Wasps can technically fly for a short period at temperatures below 50-53°F, but they will become lethargic and fall to the ground quickly. It is safe to say that below 53°F wasps become lethargic and unable to fly.
Some species, such as those adapted to far northern climates can fly at slightly lower temperatures. These species are adapted so as to reduce the rate at which they lose heat to the air.
Do Wasps Fly-In Cold Weather?
Yes – I have been really messed up by a wasp nest on a chilly day. When they get angry they can heat themselves up and will fly out and stick on you. They stop flying quickly, but this does not mean they cannot walk around and sting you as they slowly freeze to death.
Read more about: Do Bees Stay In Their Hives In The Winter?
At What Time Do Wasps Stop Flying?
This will depend on the species of wasp. Wasps use light to navigate, much like bees. Below a certain light intensity, they lose the ability to navigate. The foragers return to the wasp nest and wait for the next day. Often it gets cold in the evening as well, which can also contribute to the wasps not flying.
There is however no right answer to this question – different wasps behave differently. There is also the question of photoperiod – you may find that in one state in the South wasps stop flying at 5 pm in July, but you may also find wasps that fly 24h a day in Alaska because the Sun stays up all day at that time of year.
Are Wasps Killed By Cold Weather?
Social wasps such as yellow jackets will stop being able to run a wasp nest as temperatures drop. The young mated queens will tend to go and hide in a crevice somewhere and overwinter, then start a new nest in spring. So the cold weather does not kill all the wasps – but it does kill some. Social wasps rely on foragers to find nectar and protein for the nest – as the temperature drops, these foragers cannot fly anymore – unlike honeybees they have no honey stores to last through winter, and a wasp nest will therefore perish in the cold.
Why Do Wasps Get So Irritating Just Before It Gets Cold?
As it gets colder in fall, trees and plants reduce their flowering. The amount of sugar available for the wasps' declines – at the same point we are dealing with the wasp nest at its largest size as it has multiplied up over the summer. Desperate foragers will look for alternative sources of sugar – such as your sweet beverage. They love fruit juice, cola, or anything sweet. They often try to pinch the frosting off donuts.
Wasps will also learn that beehives contain two useful things – honey and bees. Honey is a great source of sugar, and bees are a good protein. Yellowjackets will attack hives in fall as a result. It is consequently important for beekeepers to have a management plan in place to deal with wasps where they are a pest.
I hope this article has helped you understand what governs our question "At what temperature do wasps stop flying?". You can see this is a biological engineering effect – there is a limit to how much heat a wasp can generate, and how much it can keep in its body. This is why they stop flying when it gets cold. If you enjoyed this please share.
Read more about: 
Identifying A Bees Nest
FAQs
Can wasps fly in cold weather?
This depends on what you call cold. Below 53℉ or so wasps cannot fly far -this does not mean they cannot fly. If you approach a wasp nest when it is this temperature they may still be able to fly out and sting you, but shortly after that they will get too cold to fly. They will just walk around on your body stinging you.
What time of day do wasps stop flying?
Wasps stop flying when it approaches dusk - this time of day varies from place to place and time of year.
What temperature can wasps withstand?
Below about 53℉ most wasps will not be able to generate enough warmth to keep flying.
Does cold weather kill wasps?
Wasps are unable to maintain a colony if their foragers cannot go out and collect nectar and protein. Below about 53℉ foragers cannot fly - a wasp nest will hence starve to death at lower temperatures. The young mated queens will however leave the nest and go and hide in a crevice somewhere and overwinter. So the cold will kill the nest, but not the queens. This is why we get wasps every year.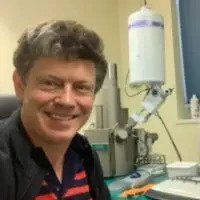 Dr. Garth A. Cambray is a Canadian/South African entrepreneur and beekeeper with 28 years of experience in apiculture and specializes in adding value to honey. His Ph.D. research developed a new advanced continuous fermentation method for making mead that has resulted in a number of companies globally being able to access markets for mead. His company, Makana Meadery, exports honey mead to the USA where it is available to discerning connoisseurs. He has also developed technologies to commercially manufacture organic honey vinegar in Zambia for export globally. He holds a few patents globally in the ethanol industry and believes in technology and knowledge transfer for human development and environmental sustainability. One of his proudest achievements is the fact that the wind farm he started at one of his old apiary sites has essentially made his hometown carbon neutral.